---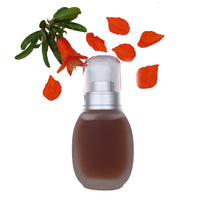 Pomegranate ENZYME Mask
Oessencials Organics
Preserve skin's beauty with this antioxidant rich and incredibly nurturing enzyme mask. Suitable for all skin types and good enough to eat...

DESCRIPTION: Gently dissolve dry surface skin and encourage cell turnover with a unique gel mask that boosts hydration as it exfoliates. Enzymes from pomegranate and apple target lifeless cells to reveal newer, smoother skin with youthful vibrancy, depth, and luminosity. It is widely known that physical exfoliants can abrade skin, cause inflammation and break capillaries. By contrast, delicately removing the build-up of dry cells with enzymes avoids damage.

In addition to the cell turnover stimulated by exfoliation, an active derived from organic alfalfa encourages cell renewal and improves collagen synthesis. Its action is similar to Retinol but without the irritation, promoting elasticity and preventing wrinkles for even sensitive skins.

As we age, skin becomes less capable of retaining moisture. The hyaluronic acid in our tissues progressively decreases, leading to wrinkling and a lack of moisture and elasticity. Sodium hyaluronate is a natural, vegetable source of hyaluronic acid that penetrates the epidermis and prevents dehydration. Teamed with aloe vera, which is high in polysaccharides that help coordinate collagen synthesis, this crucial hydrator lends the mask a skin-calming effect that's essential to supporting exfoliation of the outer layer without damage or irritation. A hydrating base not only increases water content, but also helps improve water retention over time

Soothing, euphoric scents from Organic Bulgarian rosewater along with organic extracts of peach and coconut make the experience incredibly appealing. Ingredients derived from black currants and lactic acid bacteria, both certified natural by Ecocert, create an effective preservative complex without synthetics.

HOW TO USE: Apply liberally to face and décolleté and let sit for 15 to 20 minutes. If using this product for the first time, use every other day for the first week, then once a week or as necessary.

INGREDIENTS: aloe vera leaf juice*, sodium hyaluronate, red rose flower water*, alfalfa extract*, radish root ferment filtrate, lactobacillus**, pomegranate fruit ferment extract, apple enzyme, coconut extract, sclerotium gum, black currant fruit extract**, peach extract*, pectin.

Gluten-Free
*Certified Organic
**Ecocert

SIZE: 30 ml / 1 fl oz

PACKAGING: 100% recyclable glass bottle with pump
*These statements have not been evaluated by the FDA. This product is not intended to diagnose, treat, cure or prevent disease.